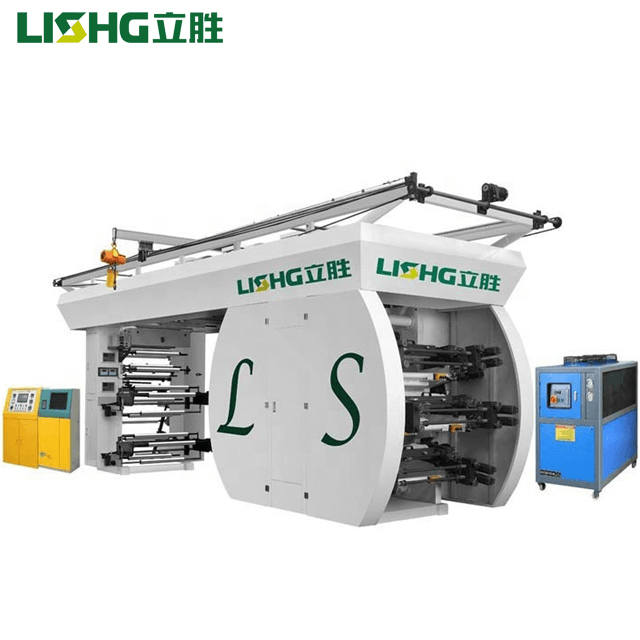 Paper: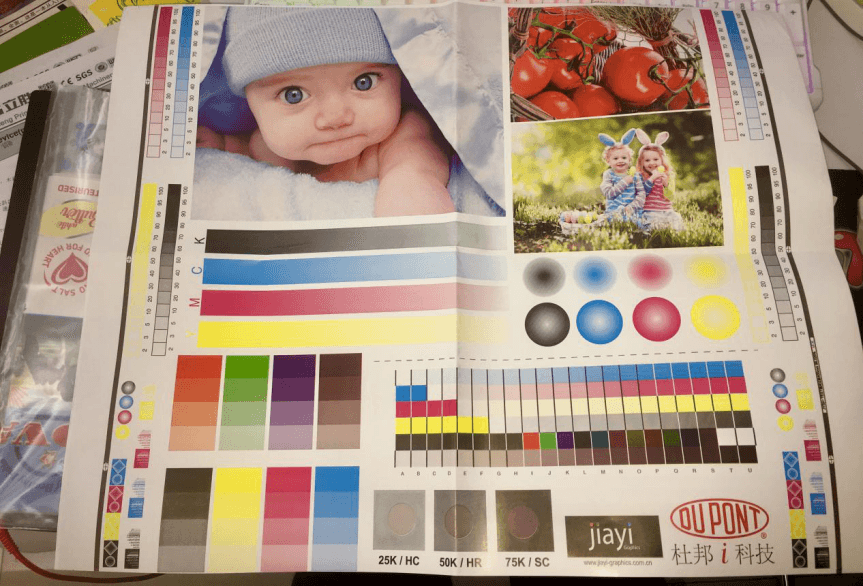 Film: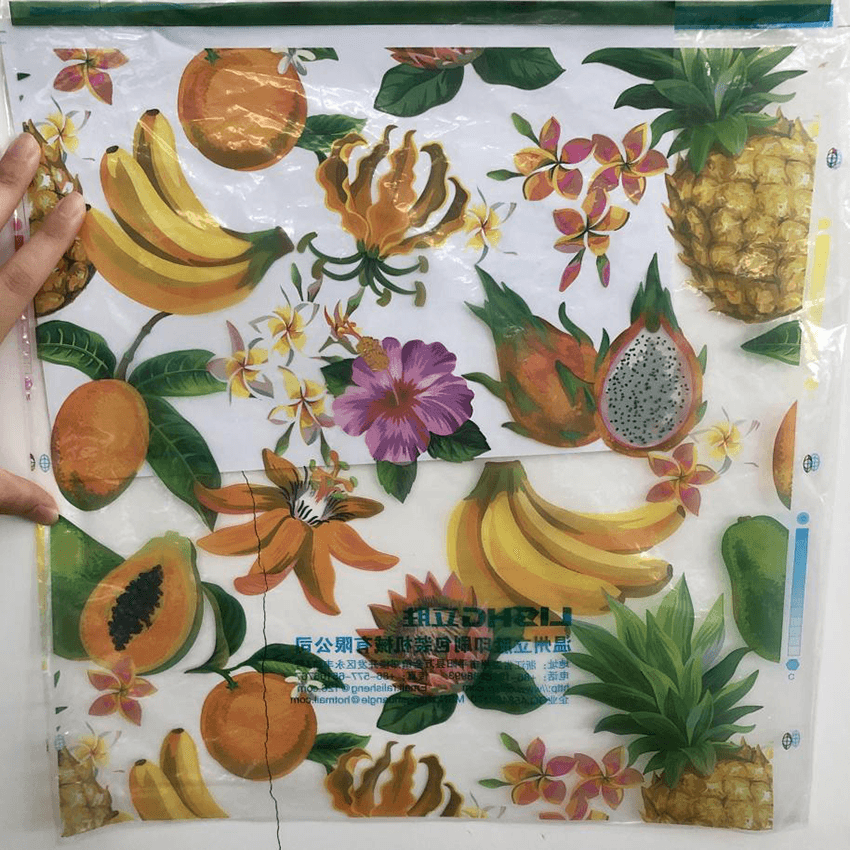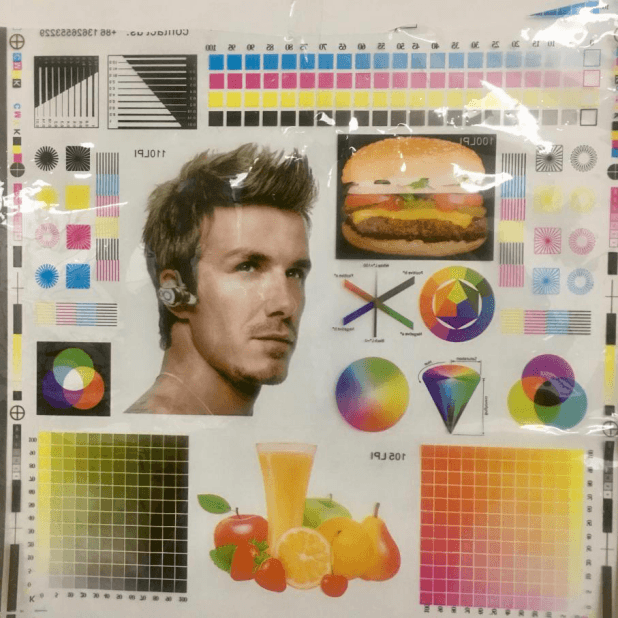 Characteristics:
1.Central impression type printing machine with better color registration. Due to the big drum, the printed material is supported by the big drum, and greatly improving color registration, especially with extensible materials.
2.All colors printing station drived by the central drum, Less transmission errors because of less gear transmission, increase the registration precision.
3.Adopting high-quality motor, high-quality inverter, save the electricity, reduce the run fluctuation.
4.The machine is equipped with blower and heater; and the heater employed central temperature control system, automatic temperature controller, and separated heat source.
5.The use of individual drying oven and cold wind system can effectively prevent the ink adhesion after printing.
6.Roller adopts special steel processing, and through special treatment, greatly reduce the beating range.
7.Printing roller uses static balance and dynamic balance processing, hard anode oxidation treatment, small resistance, beating small, achieves finally perfect printing effect.
8.Accurate printing effect achieved by special gear transmission device.
9.The printing machine all can choose advance configurations to achieve the high quality, the high-definition effect.
Main parameter:
Technical Specification

Model

YTC

Material feeding width

600mm 800mm 1000mm 1200mm。。。

Max Printing Width

560mm 760mm 960mm 1160mm。。。

Colors

4colors

Material

Film

Thickness of plate

1.14mm.1.7mm 2.28mm.2.84mm. 3.94mm

Customized is available

Printing length

Standard is 400mm,

Customized is available from300-1000mm

Maximum machinespeed

150m/min

Printing speed

120m/min

Register precision

longitudinal registration±0.2mm

Transversal registration±0.2mm

Structure type

Central impression(central drum)

Gear module

1.5mm

Heating method

Electricity heating

Max. oven temp.

Max. 80℃(room temp. 20℃)

Unwinder/rewinder paper

core 3"

Max.unwinder/rewinder dia.

1200mm

Suitable Ink

Water based ink / Solvent ink
Feeding material part:
1.Single unwinder system, pneumatic loader for unwind system
2.Automatic stop machine when break the material; When machine stop, keep tension and avoid the material loose or line deflection.
3.Air shaft
4.EPC (edge position control): With manually/automatically/ central return function, can adjust the rewind move left and right .
5.Automatic tension control system with magnetic brake(10 KG)
6.Roller core diameter: 76mm
7.Discharge maximum diameter: 1000mm
Printing sections:1.printing consists of: central drum, plate roller, ceramic anilox roller, chamber doctor blade.2.plate roller circumference: 280-1000mm 3.print material: resin plate or rubber plate 4.Transmission: central drum with big gear drive the printing station. 5.Printing roller lifting system: Pneumatic cylinder control roll backward and forward , when the machine stop the printing cylinder will backward , when the machine running will forward by pneumatic cylinder automatic.
Rewinding Part:
1. pneumatic loader for unwind system
3.Air shaft
4.Roller core diameter: 76mm
5.Discharge maximum diameter: 1000mm
Drying system:
1.Use hot air drying, intelligent constant temp control.
2.All the hot air between the printing units is supplied by one heating units.
3.Drying units are installed after the printing units, and air volume can be adjusted by independent damper/panel
4. The printing unit power it is about 10KW
5. The drying system after the printing it is about 30kw
6. Top dry system consist 3 oven each oven 10kw ,adjust by independent
Central drum:
1.The central drum adopt hollow with two layers structure, made from superior alloy
2.steel and precise dynamic balance treatment and surface electroplated treatment to make the frame surface without etching.
3.The central impressing drum adopts high precise imported double row roller
4.bearing for supporting, imported together with the central drum.
5.The central impressing drum has constant temperature system of 32℃. With water cooling system(optional)
6.The central drum is driven by a big gear
7.A high precision encoder is installed at the axial head of the central drum which speed of plate cylinder and anilox roller is synchronous with the central drum
Chamber doctor blade and ink pump:
1.Equipped with doctor chamber for fast change.
2.It is made from Aluminum alloy and closed type to reduce solvent volatilization
3.and keep the ink in good viscosity and clean.
4.The blade and chamber sealing block are easy to change and clean.
5.There is forward and reverse directions doctor inside the chamber. The reverse doctor is for sealing the chamber and the forward doctor is for scratching the ink.
7.The doctor blade is with even strength, easy to adjust.
8.ink supply adopt double diaphragm pump. Easy to suck the ink .
Frame and web running:
1.The frame is made of alloy cast iron with high strength and lower stress. It is
casted by resin sand process and treated by vibration aging.
2.Integral type guide roller structure.
3.Assembled modularization in design.
4.Frame thickness 100mm
5.Guide roller Φ100mm (Surface anodic oxidation treatment)
Here is some detail picture below.Hope can make you know more about our machine
Details:
Plate roller

v Can be customized. Range 300-1000mm

v Printing roller uses static balance and dynamic balance processing

Auto tension control&magnetic power

v Control un&rewind parts balance material both side.

Air shaft

v tight to material ,flat material , better printing

Ultrasonic Web guide

v Swift tracking print photo

v Keep the edge of the master roll flat

Single doctor Blade

v Not spill the ink

v Equip with ink pump, even the ink

Chamber Doctor blades

v Evenly ink when printing process .

Ink pump

v Suck the ink automatically

v Adop the automatic circle system.

Auto lubricating system

v Timingoil thebiggear

Hydraulic cylinder central the printing roller, backward and forward automatic

v The machine work the printing roller will forward, and if stop work , the printing roller will backward

Heat dryer (each color with 1 set heater, one long heater channel on the top)

v 3 pcs motor for the top (dry heater +fan ) Total 30KW

v 1 pcs motor for printing set 10kw

Ceramic Anilox Roller

v Transfer ink evenly, improve the printing effect.

v 300-600 lines/in

Up and down plate

v Adopt the hydraulic pressure rising and down the printing plate automatically

Auto pneumatic loading&unloading for unwinding and rewinding

v It is easy to transport and loading material.

Video inspection

v Check the printing quality on the video screen
The main list of detailed configuration
Remark:the main motor and key parts can change which brand as your request.
1.Main motor:1pc(Taibang brand)
2.Ink operation motor: 1pc ( wanxin brand)
3.Inverter of main motor:1set (Delta brand)
4.Electrical parts:(Schneider)
5.bearing:NSK
6.Ceramicaniloxroller:1pc/color( Murata)
7.Auto tension withMagnetic power:(HAITAI)
8.Air shaft: 1set(China)
9.EPC system:(China)
10.Contactor:(Schneider)
11.Button Switch:(Schneider)
12.Breaker:(Schneider)
13.Counter: (CHNT)
14.Hint light:(Schneider)
15.EPC system:1set (China)
16.Revolve Button Switch:(Schneider)
17.Urgent Stop Switch:(Schneider)
18.Relay:(Schneider)
Optional device(need extra money to get perfect machine)

Auto hydraulic loading&unloading for unwinding

v It is easy to transport and loading material.

Big roller friction Rewinding type

v Rewinding the material more tight and keep in line. Special for paper

Double Rewind And Unwind System

EPC RE brand from Italy
Pre-Sales One-stop Service

* Inquiry and consulting support




* Latest industry trends




* More fit printing solution




* Sample testing support




* View our Factory




* Suggest layout support

After-Sales Service


* One year warranty




* Machine test video before delivery




* English Manual, Electric Diagram




* Training how to install the machine,

training how to use the machine

* Engineers available to service machinery overseas



As per export standard, they will also be treated before delivery

against damage and rusting.




Package

As per export standard, they will also be treated before

deliver against damage and rusting.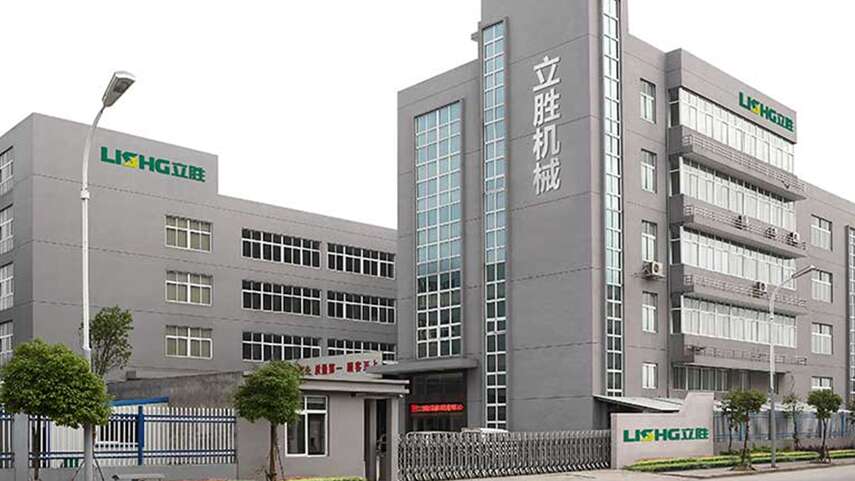 View More
Online Inquiry